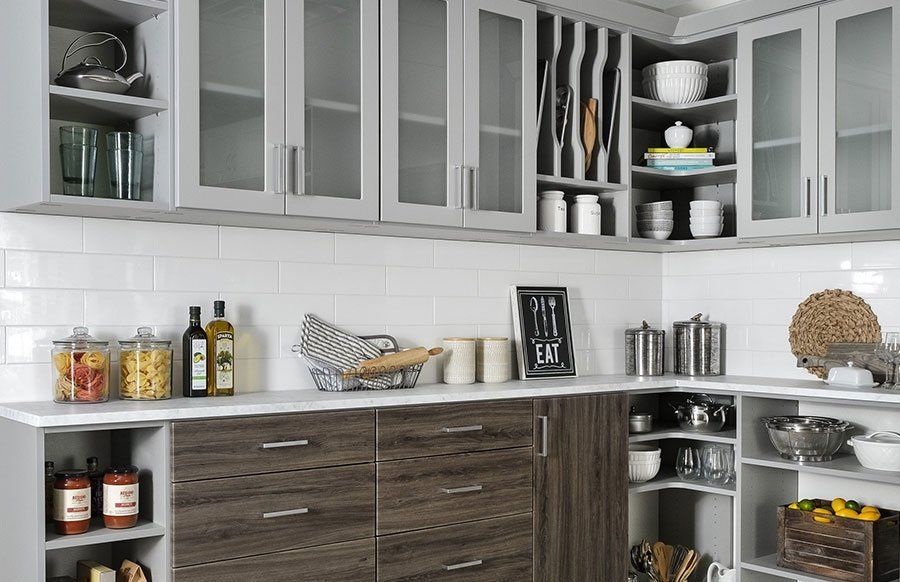 Having a well organized pantry is at the hub of your inspiration to cook and make delicious healthy meals. Being inspired in the space we create sustenance for ourselves or for others is essential to our health and well being, and helps stimulate the desire to create delicious meals.
Here are 10 clear signs that you NEED a
Kitchen Pantry
Makeover..ASAP!
The door to the pantry no longer opens or closes properly.
You have to put on a hard hat to enter because you're not sure what might tumble down on your head.
You'd rather eat out then prepare a meal from the depths of the pantry.
You go to pour a bowl of cereal and realize it's more than three years old.
Even your Twinkies have gone bad!
You look for your gravy boat and realize it's simpler to just buy a new one.
You wonder who on earth would leave a plant in your pantry only to realize it's actually an overgrown potato.
Your family draws straws to decide who goes in after the movie night snacks.
You have more grocery shopping bags in your pantry than food.
You sent your dog in to chase the cat out of the pantry and haven't seen either one since.
If any of these sound familiar, it's time to get your act together and get organized!
---
10 Tips For Re-organizing Your Kitchen Pantry
1. You Have To Unorganize to Reorganize
The first step in pantry organization is to empty the shelves. (It will be worth it, promise!) Toss anything expired, donate what you don't need, and sort the rest by type. By pulling everything out of the pantry, you can evaluate what you have, which will determine how you configure your storage. Plus, when you eliminate items, you'll free up more space in your pantry.
2. Keep It Fresh
Decant to save space. Baking supplies and flour stay fresher and store more compactly in clear canisters with tight-fitting lids. Pour cereals and grains like rice into generously sized canisters to maintain freshness.
3. Raised Storage
A set of miniature bleachers for cans and jars shows your whole inventory at a glance, guaranteeing nothing gets lost in the back of the cabinet.
4. Equipment Storage
If you have space, store select equipment, such as mixing bowls or baking pans, in the pantry near the baking supplies.
5. Tray Tip
Place bags of noodles and beans in trays or baskets with tall sides. Long, narrow trays use the full cabinet depth and will slide easily.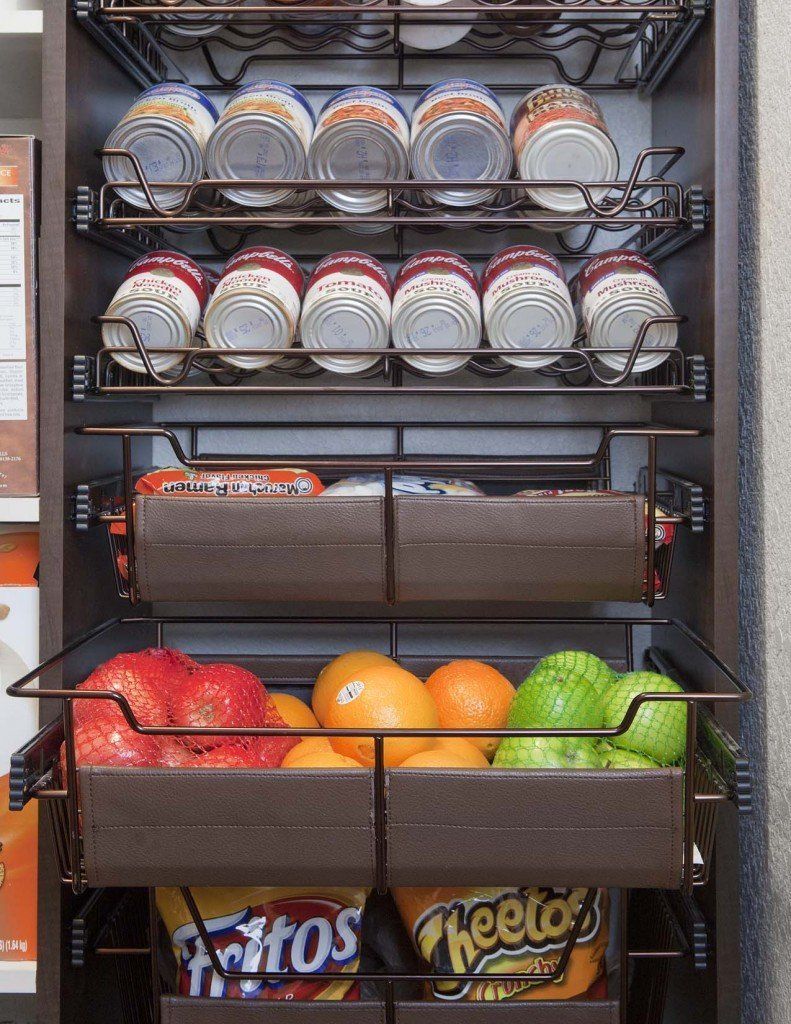 6. Snack Time
Store individually wrapped snacks out of their boxes and in clear stackable containers. Organize snacks by type and label each container.
7. Store Together
Group items you use simultaneously in a container, so you just have to pull it out rather than hunt for individual items. For example, common baking ingredients eg: vanilla, baking powder, baking soda, and salt – in one basket or tray and cake-decorating ingredients in another.
8. Easy Finds
Place frequently used items at eye level in the pantry. Use floor space for more utilitarian pieces, such as recycling containers, bags and produce bins.
9. Round & Round
Employ lazy Susans to contain jars and bottles in the same category, such as sandwich spreads or vinegars and oils etc.
10. Get A Custom Solution
If this all sounds like too much work and an entirely new solution is what you need, then it may be time to consider getting professional help to design you a custom kitchen pantry worthy of your creative cooking investment. At least this way you can make sure that everything is set up just right from the word, "go" to help you keep a healthy and uncluttered kitchen pantry for years to come.
For residence surrounding
Seattle
,
Bellevue
&
Kent
areas who would like to explore how a custom pantry will improve your kitchen's organization and in turn, your health and well-being, you have an exclusive opportunity today to obtain a No Obligation FREE In-Home Design & Consultation from the experts in
kitchen pantry
design and organisation at Creative Closets.
Simply call (425) 276-7764 today and mention this offer to book in your FREE consultation …and who knows they may even find your long lost dog or cat for you in there 😉