Upgrade Your Sammamish, WA, Home With a Custom Walk-In Closet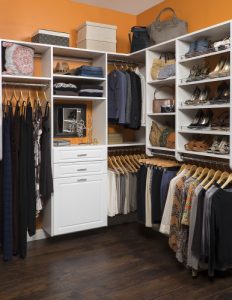 Do you want to wake up in the morning and get dressed in a beautifully organized walk-in closet? When you partner with Creative Closets, we can help make this a reality! We offer fully customized walk-in closet systems that can provide numerous organizational benefits that will make getting ready in the morning an effortless experience. We have been proudly serving homeowners in the Sammamish, Washington, area, and we are eager to add you to our long list of satisfied customers.
Our Walk-In Closets
At Creative Closets, we know that no two homes are exactly alike. This is why we take pride in offering walk-in closet storage solutions designed to suit your home perfectly. When you work with us, you'll be able to choose from the following:
Soft-close hinges and soft-close drawers
Numerous laminate-based materials
Over 25 colors and styles for a personalized look
Seven unique cabinet/door fronts
Adjustable shelves to utilize your existing space
Plus, we also offer a wide selection of closet accessories to fulfill your unique needs, including slide-out mirrors, jewelry and accessory trays, tie racks, valet rods, and more.
Our Process
After you contact us to inquire about walk-in closet systems, we'll schedule a complimentary design consultation with one of our experienced designers. They'll work with you to bring your vision to life using 3D design software to show you what your new walk-in closet will look like before we move forward with the expert installation.
Contact Us Today
Are you interested in learning more about our walk-in closets and organizer systems? Contact Creative Closets today to get started with a consultation right at your Sammamish, WA, home.