Upgrade Your Mercer Island, WA, Kitchen Today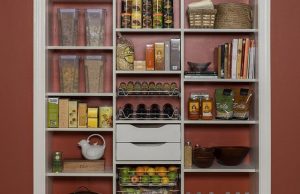 As we get older and our families grow, so does our need for more storage space in the kitchen. Luckily, Creative Closets can help! For more than a decade, we have been helping local homeowners make the most of their existing kitchen spaces with customizable kitchen pantry storage solutions. Once you work with us, it will be easy to see why we come so highly recommended in the Mercer Island, Washington, area!
Our Kitchen Pantry Organizers
When you partner with us, you will be able to design your dream pantry from scratch. Choose from a variety of shelves, kitchen pantry cabinets, drawers, and doors to create a storage space that matches your vision. We even offer functional accessories such as wine racks, spice racks, storage for cans, and slide-out baskets, depending on the needs of your household.
Plus, you won't have to worry about your new pantry disrupting the aesthetic of your home because we offer 12+ standard and 20+ vibrant mixology colors for your cabinets, doors, and drawers. And all our wood products include a lifetime guarantee!
Get Started Today
Are you interested in learning more about our kitchen pantry organizers and how they can benefit your Mercer Island, WA, home? Contact Creative Closets today to get started with a complimentary consultation with one of our experienced pantry designers. We can answer any questions you may have and even produce a 3D rendering of your pantry design before getting started with the expert installation. We look forward to working with you!