Mercer Island, WA Custom Closet Systems, Garage Storage Systems & More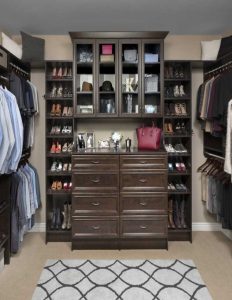 Creative Closets is your one-stop resource for all things having to do with custom closets! Whether you need a custom closet system installed in your home, or a new garage storage system, Creative Closets can help!
We have been helping homeowners in Mercer Island, Washington, area, reduce stress in their daily routines by transforming the existing space in their homes into more functional and organized areas. We offer both closet system installations and garage system installations that can help breathe new life into your home.
Our Garage Storage Systems
At Creative Closets, our goal is to turn your garage into a space that can neatly store any items that don't fit in your home, in a way that is aesthetically pleasing and efficient. From garage wall storage spaces to garage flooring storage spaces, our designers can work with the unique layout of your garage to ensure that it is being utilized to its full potential.
Features of Our Garage Storage Systems
When you partner with us, you'll be able to choose from an impressive selection of custom-designed garage storage solutions that bring style and purpose to any space. Choose from organizational features such as:
Cabinets
Workbenches
Wall storage systems
Overhead storage
Plus, we can even add custom flooring with your garage storage system to protect your existing floor with a durable, attractive covering. And no matter which garage storage system you choose, you can rest assured knowing that it is durable and will last for years to come.
Our Closet Systems
Our closet systems share the same goal as our garage storage systems—to keep your home as mess-free as possible. When you choose Creative Closets for your closet system installation our designers and installers will work with you to provide:
Complimentary in-home design assessments
Accurate measurements
Installations that prioritize safety
Samples of products brought right to your home
3D Design software for mock-ups of your closet systems
Quality service from professional team members
Lifetime guarantees
Custom designs that match your exact vision
Unmatched customer service and craftsmanship
Plus, there is no job that is too big or small for our team! We can install our custom closet systems in walk-in closets, kids' closets, reach-in closets, and more. We can truly transform any space in your home into an organized oasis.
Our Closet System Features
At Creative Closets, we know that every homeowner is different and has unique needs when it comes to their closet systems. This is why we gladly offer a wide selection of features to choose from such as:
Scarf racks
Adjustable shelves
Hanging rods
Belt racks
Tie hooks
Drawer dividers and more!
And our closet system features can be customized to match the existing aesthetic of your home including numerous door and drawer styles such as Milan, flat panel, modern, raised panel, and more. We even offer over 20 diverse color options for our cabinetry so you can have confidence that your new closet system will reflect your own personal style.
Our Closet System Installation Process
Now you may be wondering what the actual installation process is like when it comes to your custom closet system. Allow us to explain. When you partner with Creative Closets we understand the toll that a home improvement project can take on a household. This is why our team works quickly and efficiently to complete your custom closet system installation as quickly as possible to reduce any potential disruptions to your daily routine.
Our Closet System Design Consultations
All of our closet system installations start with an in-depth consultation with a friendly member of our staff. We will start by working to understand your unique needs, preferences, timeline, and budget.
Next, our team will take accurate measurements, bring samples right to your home, and even create a 3D mock-up using design software so that you know exactly what your new closet system will look like before we begin the installation process. Only once you are fully in love with the design of your new closet system will our team start the expert installation process.
Achieve Better Home Organization With Our Products & Services
When you call Creative Closets, we will schedule a no-cost, no-obligation, in-home consultation. During this time, we'll talk about your needs and your closet designer will go over all of the options available for custom closets in your home. Some of these options include:
Walk-In Closets – These larger closets can quickly become overrun with clothing, shoes and other belongings. Take control with custom walk-in closets for your master bedroom.
Kids' Closets – Children are notorious for being mess-makers. Help your little ones learn great organization skills and take better care of their items with a kids' closet system.
Custom Garage Storage – Does your garage greet you with neat storage areas and an open space to park your car when you get home? If not, ask us about custom garages.
Custom Pantry and Laundry Areas – These are vital areas in the home that need to be in good condition in order to make chores more feasible and enjoyable.
Custom Home Office – With more Americans working from home now than ever before, home office organization is something that we're well-versed in! Let us help you make sense of your home office.
Closet Accessories – From tie racks and jewelry trays to shoe holders and more, our closet accessories will allow you to store all sorts of things in your closets!
If you're ready to learn more about the custom closet systems, pantries, and garage storage systems that we install for Mercer Island, WA, homeowners, contact Creative Closets today. We look forward to working with you!