Let's face it – how easy is it to teach our kids how to be organized and stay that way? And how do the kid's closets look like most of the time? If clutter and mess comes up in your mind, you're not alone. One of the most fundamental places to start is having the right closet organizers so that all items have a home. Not only should there be organizers, but having them look different enough so that organization is intuitive is even more important to kids.
Imagine having a few chest drawers all looking the same. How will the child remember where to store everything? Very soon, the drawers will be cluttered with items all in the wrong places. Therefore, a unique
kids custom closet
will play an important role. After you have the proper organizers installed for the kid's closet, you may have to guide them daily for a short period of time to ensure they know where everything goes.
---
6 Kid's Closet Ideas to Help Messy Kids Be More Organized
In addition to some closet organizational tips for kids, it's wise fill up the closet with organizers to fit most, if not all of the kid's items. What you don't want is potential closet space prone to forming a pile. At Creative Closets in Washington, we specialize in designing kid's closets to be adjustable and also functional. Without further ado, here are tips for a functional kid's closet design.
Cubbies with bins or baskets to hold treasures
With all children, they may have a lot of toys and accessories that are best in a bin or basket. You can have clear / see-through bins or have labeled baskets depending on the type of items your child has. To avoid toys staying out everywhere and being all over the floor or table/counter spaces in the room, teaching kids to put it all away after they're done will be a great habit to have.
Hooks for hanging items
Sometimes, there may be a clothing item that is worn very frequently such as jackets, sweatshirts and scarves. For these items, it may be a good idea to install hooks specifically for these types of items to increase accessibility, which increases the likelihood of the child using it!
Labeled Drawers
Drawers can be used in a variety of ways depending on the type of items your child has. It can be used to store toys, pajamas, clothes and anything else. Labeling the drawers can also encourage your child to be more organized. One of the main reasons for disorganization is not knowing where everything goes. Thinking about it can be enough of a discouragement that the item gets placed somewhere else instead. Once this cycle begins, it will continue until piles of clutter fills the space. Make sure there's a home for every item and make it as obvious as possible.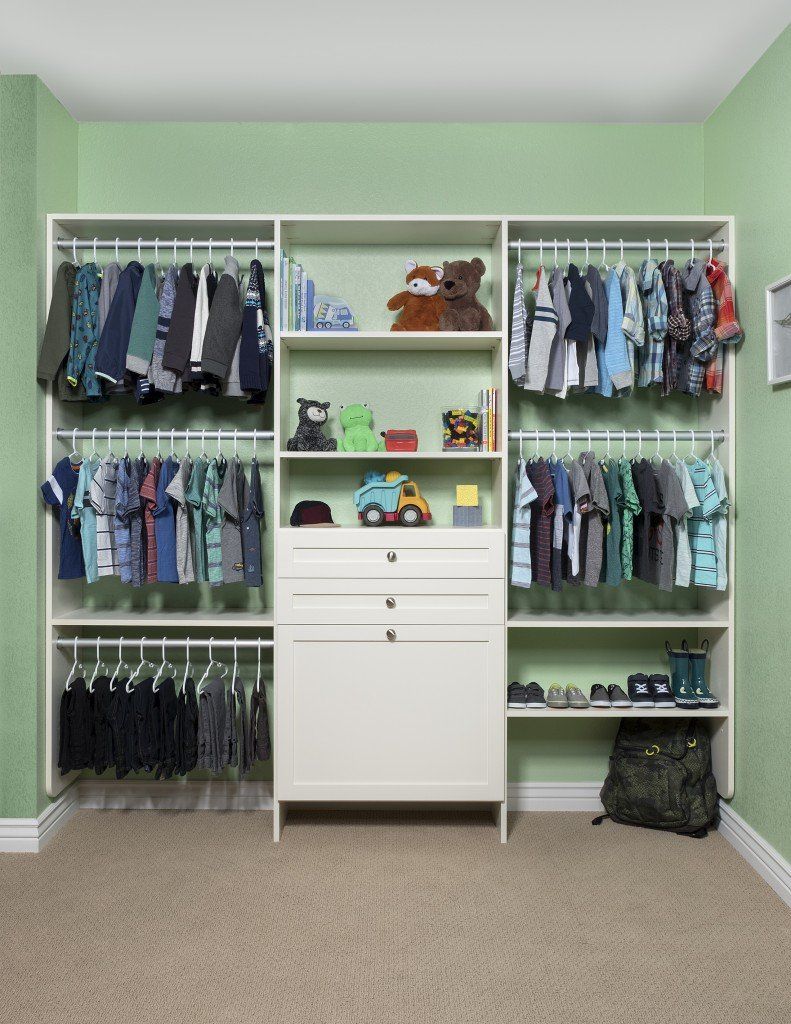 Shoe racks
If your child is beginning a collection of shoes, whether for school, extra-curricular activities, sports, etc., you'll want to have shoe racks so that they're not taking any room on the floor or spread out across the house. If the child is used to their room being clutter-free, they will maintain that habit much easier. Teaching your kids to keep like items together will go a long way ahead.
Cabinets for trophies and other memorabilia
All children loves self-expression and desires this almost more than anything. To allow them some creativity and self-expression, you can use cabinets to store memorabilia, trophies, favorite toys, etc.. The only catch is, they will have only a limit space so they will learn eventually how to prioritize in this way. Closet cabinets are also great for other items such as hats, picture frames, figurines, and even shoes if you don't want shoe racks.
Double or Triple Hanging Rods and Step Ladder
Depending on the the size of your child's clothes, you will want a double or triple hanging rod system with the more frequently used items closer to the bottom. Depending on how tall your child is, you may want to get a high rise step ladder (optional: with hand bars for safety) to reach the higher sections of the closet. By having a double or triple hanging rod setup, most of the clothes will be easier to reach.
All-in-one Solution
If you combine all of the
kid's closet
organizers together, you'll have an optimized closet that encourages and facilitates organization. This means there will be a home for every item, which helps reduce clutter and mess in the bedroom.
To make your
kid's closet
design easier and hassle-free, Creative Closets in Washington is offering a FREE In-Home Closet Design using 3D software to customize to your child's needs. All of the
kid's closets
we design are fully adjustable that will grow with your child. Schedule a consultation by calling (425) 276-7764.