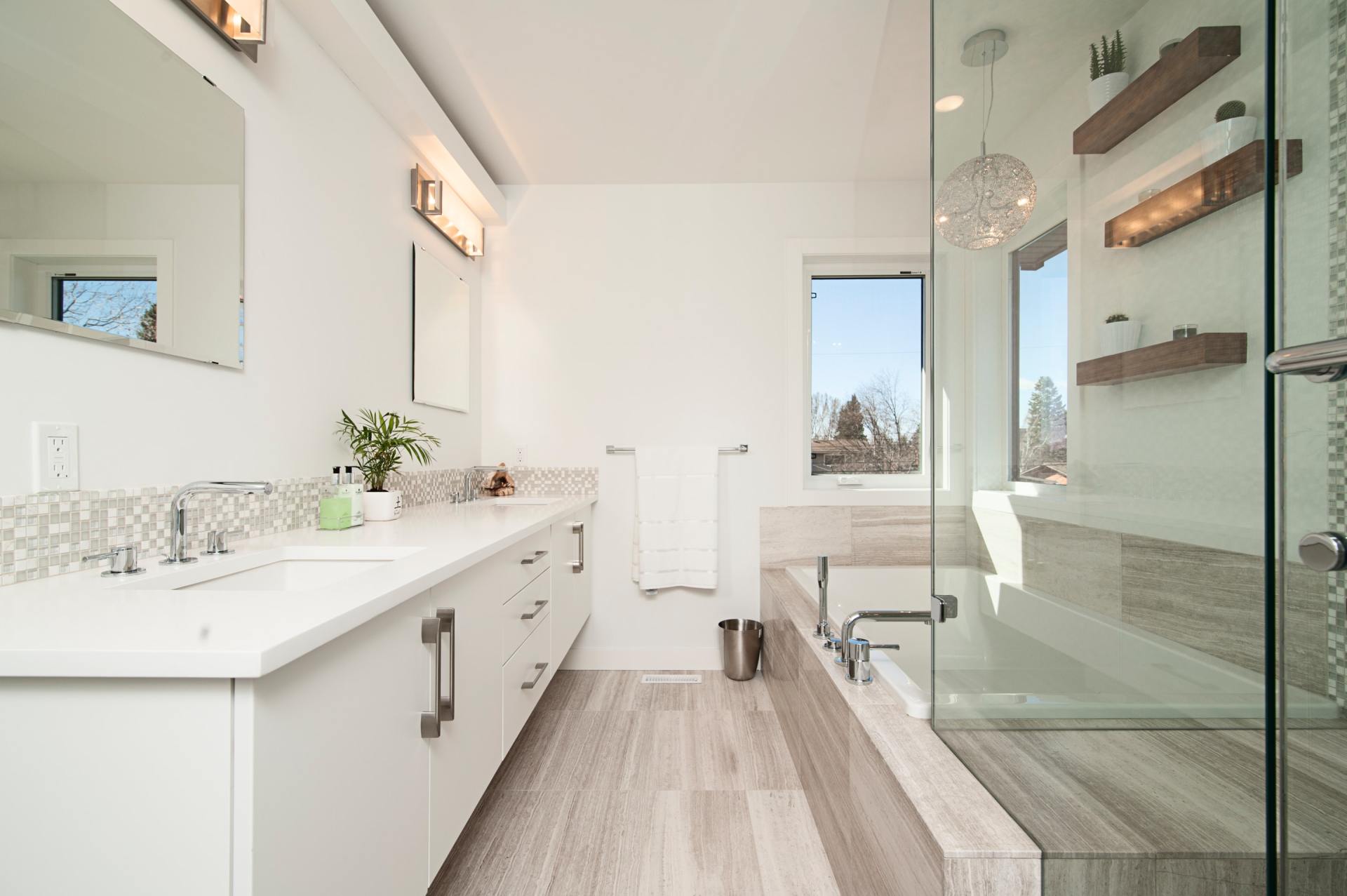 The bathroom, particularly the master bedroom, is often the room in the house that is the most neglected. Oh, you keep your bathrooms clean and sanitary, of course, but are they truly organized? Here's a quick test: If you need a bandage, do you have to first rummage through a messy medicine cabinet? If a guest needs a towel, would you be embarrassed for her to have go into your bathroom closet to retrieve one? And perhaps most telling, have you had the experience of pulling a sticky can of bathroom cleaner from under your sink, because a bottle of hair gel has fallen over and spilled?
If the answer to any of these questions is "yes," or if you'd just like to update the organizational system in your bathroom, then you need these tips for better bathroom organization:
Consider open shelving
While your first thought may be that your bathroom products are better off behind closed doors, consider that keeping items on open shelves makes you much more likely to keep them clean and organized. Also, keeping neatly folded towels, washcloths and perhaps a box of tissues on open shelves allows family members and guests to take what they need without having to go through cabinets and closets. HGTV offers some
tricks and tips
for making open shelving work for you.
Containers are your friend
Much of what we store in our bathrooms are small items: cotton swabs, cotton balls, toothbrushes, nail clippers, painkillers. Contain like items in containers, boxes, baskets, cubbies and bins of all sizes. Except for medication, which should remain in its original box, you can feel free to toss flimsy cardboard or plastic packaging and store items in your own containers.
Organize.com
offers lots of options for reasonable prices.
Use pull-out drawers
Not only do drawers function as large containers for your stuff, but they also make it easy to access what you need. Install these on closet shelves or under cabinets, and don't over-fill them.
Keep safety in mind
Cleaning supplies should be kept up high, even if you don't have children or pets; if young guests come to visit, they could get into your stash. Place cleansers in plastic bins so that if they spill, they won't drip on items below. Put the bins on a high shelf that you can reach without any trouble; you don't want heavy bottles of bleach falling on you while you're struggling to get them down. You can read more about
childproofing and bathroom safety
on BabyCenter.
Use Organizers
Door organizers, shower caddies and similar systems particularly if you don't have a lot of space. Using all of the vertical space possible frees up the horizontal space in closets and cabinets and makes for better organization. Bed, Bath and Beyond has a good selection of shower caddies and other
bath organization products
.
The good news about organizing your bathroom is that, due to the room's small area, you can usually get it accomplished in a day or, at most, a weekend. Clear everything out, toss expired or old products, separate everything by type, and put it all back in new or freshly cleaned containers. As a bonus, your bathroom will be easier to keep clean once it's whipped into shape!
Author Resource: Michelle Kulas writes about Bathroom Organization Tips, for Creative Closet Organizers. Creative Closet Organizers is an affordable and reliable Company for
Custom Closet
Design.